Hi all! My name is Heather I am the blogger behind Cook It Up Paleo.  I am so incredibly honored and excited that Sarah has asked me to be a contributor on Everyday Paleo, i.e. my favorite paleo blog ever! Sarah's book and blog were my first introduction to paleo four years ago, and as a result I went paleo, started my blog, and never looked back!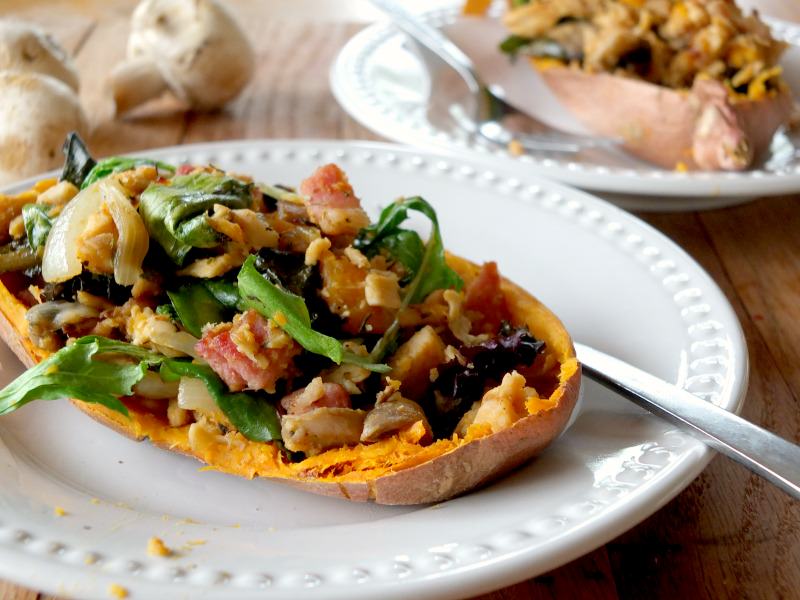 Ok now on to this delicious recipe.  When I was a kid (or younger than I am…), my favorite food was "lid potatoes", i.e. potatoes stuffed with cheese and lots of butter.  I still love the idea of potatoes stuffed with yumminess, and that was the inspiration for this recipe.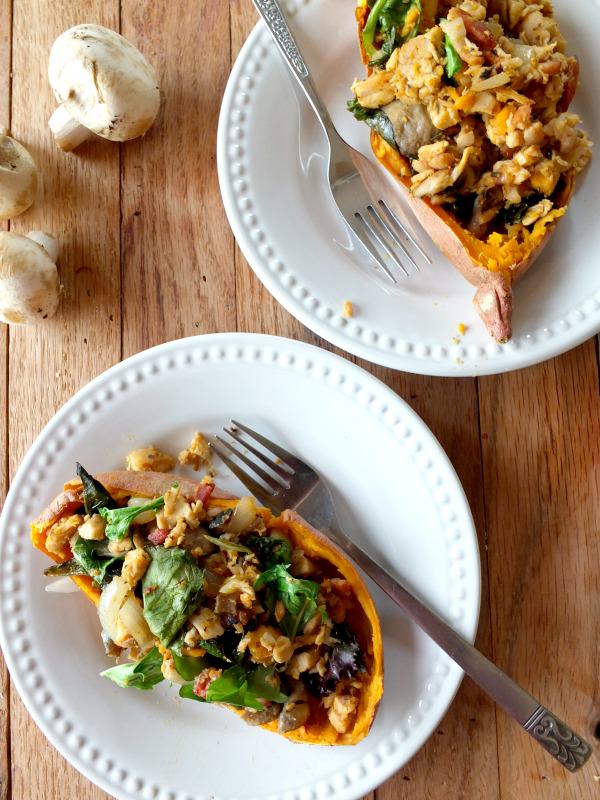 This recipe has all the fixings: bacon, mushrooms, greens, onions, garlic, olive oil, and balsamic! It's all piled on a baked sweet potato, and the result is a protein-packed and nutrient-dense breakfast, lunch, or dinner that is sure to please the whole family!
Chicken and Bacon Salad in Sweet Potato Boats
Ingredients
2 large sweet potatoes/yams, baked
4 slices bacon, diced
1 onion, chopped
12 oz. fresh mushrooms, sliced
2 garlic cloves, minced
2-3 cups shredded cooked chicken
1/2 teaspoon dried thyme
Salt and pepper to taste
2 cups salad greens (spinach, arugula, etc.)
Fruity olive oil (optional)
Balsamic vinegar (optional)
Directions
Slice the baked sweet potatoes in half lengthwise.  Use a spoon to carefully scoop out the flesh, leaving a thin skin to stuff with the salad later.  Set the skins aside and dice up the cooked sweet potato flesh.
Heat up a large skillet and add the diced bacon.  When it releases its fat, add the diced sweet potato, onion, mushrooms, garlic, chicken, and thyme.
Cook over medium heat, stirring often, until the veggies are cooked and the bacon is crispy.  Add salt and pepper to taste.
Remove the pan from the heat and stir in the greens.  Let a sit a minute so the greens can wilt.
Scoop the mixture into the sweet potato "boats".
If desired, drizzle with fruity olive oil and balsamic vinegar.
Serve.
Time to table: 30 minutes
Serves: 4